Dream Racing Lounge
The state of the art lounge is over 5,000 sq foot and features seating, 9 large format tv screens, 3 separate private rooms, coffee/snack bar and plenty more amenities to host your group.
Inside Road Course
This 1.2-mile course features nine turns, an 1,100-foot straightaway, electronic timing/scoring loop, concrete curbing and ample runoff. Located on the interior of the superspeedway in close proximity to garage space, this track may be reconfigured into two courses: a .76-mile (seven-turn layout) and a .33-mile oval.
Inside Road Course Pit Lane
Pit Lane on the Inside Road Course serves as the central hub of the track's activities. Covered seating, Tv's and a view of track make your experience comfortable and fun. Above Pit Lane there is a viewing platform that will give you a full view of the track.
Super Speedway
The world-renowned Las Vegas Motorspeedway Superspeedway is 1.5 miles and can accommodate numerous driving type experiences with many clients on track at any one time. With easy access and viewing from the media center, the superspeedway is an unrivaled experience for those partaking in and experience and spectators alike.
Blackjack Club
The exclusive Blackjack Club is located on the third floor of the media center with views of the Superspeedway and has a wrap-around outdoor patio. The room can seat up to 250 people and can be divided into two sections. There are eight 47" LCD televisions in the Blackjack Club and a private elevator and lobby to access the room.
Autocross
Autocross is a great team building activity or ideal for testing new products, it's a fun yet challenging experience that will test the coordination and skill of the driver. Our Autocross course highly configurable to the needs of the client and with ample space means the course is not just fun but safe.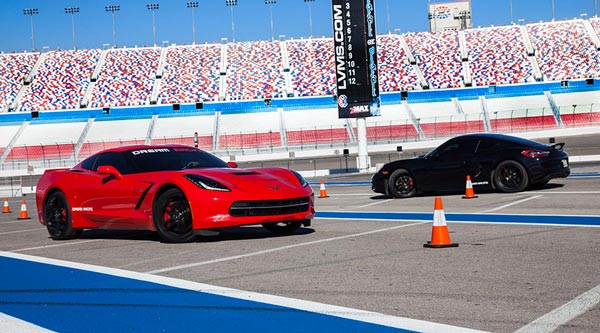 Outside Road Course
This 2.4-mile course features 12 turns, electronic time/scoring loop, concrete curbing and ample runoff. The course has up to six possible configurations, with two running simultaneously. The pit road 2 floor control tower includes restrooms which are each climate-controlled and suitable for up to 30 guests.
Off Road Course
The Off-Road area includes a preformed track that may be manipulated to suite your needs. The track is ideal for the launch of an off-road or sport utility vehicle demonstration of construction grade equipment.
Go Kart Track
This go kart "racing" course features 11 turns, a pit area, lighting and ample runoff. Six possible configurations, ranging in length and difficulty, are available. Two configurations may run simultaneously.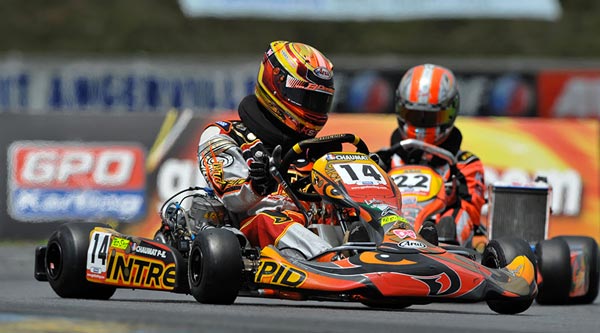 Drag Strip
The strip is 0.25 miles long and has duel lanes, ideal for a drag race experience. Seating and control tower with digital timing are available.
Nationwide
Nationwide Garage is two buildings, each measuring 12,000 square feet. The area has 54 full-size garage stalls and three larger stalls that are used as inspection bays during NASCAR events. This garage is located between turns 3 and 4 on the infield of the Superspeedway. The area is ideal for trade shows, food and beverage events, classroom training and vehicle storage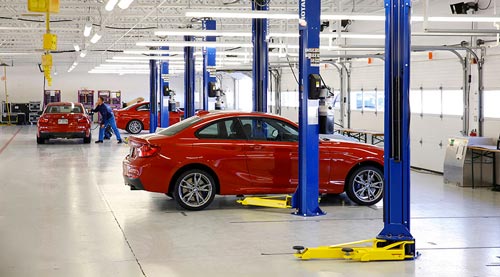 Viewing Deck
The viewing deck offers spectacular panoramic views of our Inside Road Course so you can viewthe action where ever your guests are on the track.